Lisbon is a truly wonderful city, oozing with Portuguese charm and steeped in fascinating history and culture. With so many amazing attractions on offer, it can be hard to choose what to do if you only have a short time to spend there.
This guide is the perfect itinerary to make the most out of your weekend in Lisbon.
Train Ride to Sintra
The hilltop town of Sintra is one of the most popular day trips from the city, and a true gem to explore. The train ride up the mountain provides spectacular birds-eye views of the city, so it's a great way to get a feel for the place if you're only there for a few days.
There are plenty of enticing restaurants where you can try the local tapas flavors and other traditional Portuguese cuisine, so it's easy to spend a whole day wandering around its picturesque streets.
Mosteiro dos Jerónimos
Religion has played an integral part of Portuguese life throughout history, and this spectacular Gothic monastery is a testimony to the importance of God to the local people. Architecturally, it will take your breath away; with both interior and outside walls intricately carved and the brickwork perfectly preserved.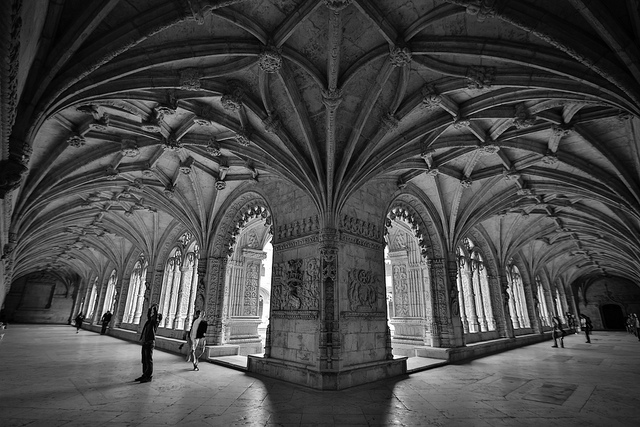 Photo: Creative Commons
Wander round the estate's impressive cloister and soak up the millions of figurines evident on every pillar, wall and archway. With last admissions not till 6pm during the summer, it's a great spot to visit on in the early evening as it's close to many great restaurants also.
Tram 28
A great way to see many of Lisbon's most popular attractions in a short space of time is to take a trip on Tram 28. Circling almost the whole city, it passes through some of the most renowned tourist areas. Its highlights include the Se Cathedral, Santa Luzia viewpoint and Estrela Basilica.


Photo: Creative commons
A ride on the tram is fairly inexpensive, meaning during peak seasons it can get very busy, particularly during the middle of the day. Because of this, a ride of the tram is best enjoyed in the early morning during the summer months: the weather is cooler, it's less crowded and you'll get better views.
National Museum of Ancient Art
This hidden gem is somewhat off the beaten track, but for art and culture lovers it's definitely a must-see. Boasting a whole range of exhibitions, showcasing some of the country's most notable ancient works of art, as well as fascinating pieces brought from the colonies.  From renaissance masters to modern day artists, this truly is a spectacular way to spend an afternoon.
Although the museum is small, there are numerous sections to explore. It's easily accessible by taxi or is located on tram route 25.  The gallery is open most days until 6, although it is closed on Monday and Tuesday mornings.
Lisbon is truly one of the highlights of Europe, and any visit is sure to delight. However, if you follow this itinerary you're sure to be able to immerse yourself in the city's best highlights, and really feel like you've experienced this beautiful place.
Any more tips of how to make the most out of a weekend in Lisbon? Be sure to leave a comment below – we'd love to hear your ideas.
Guest Post sponsored by the Corinthia Hotel Lisbon