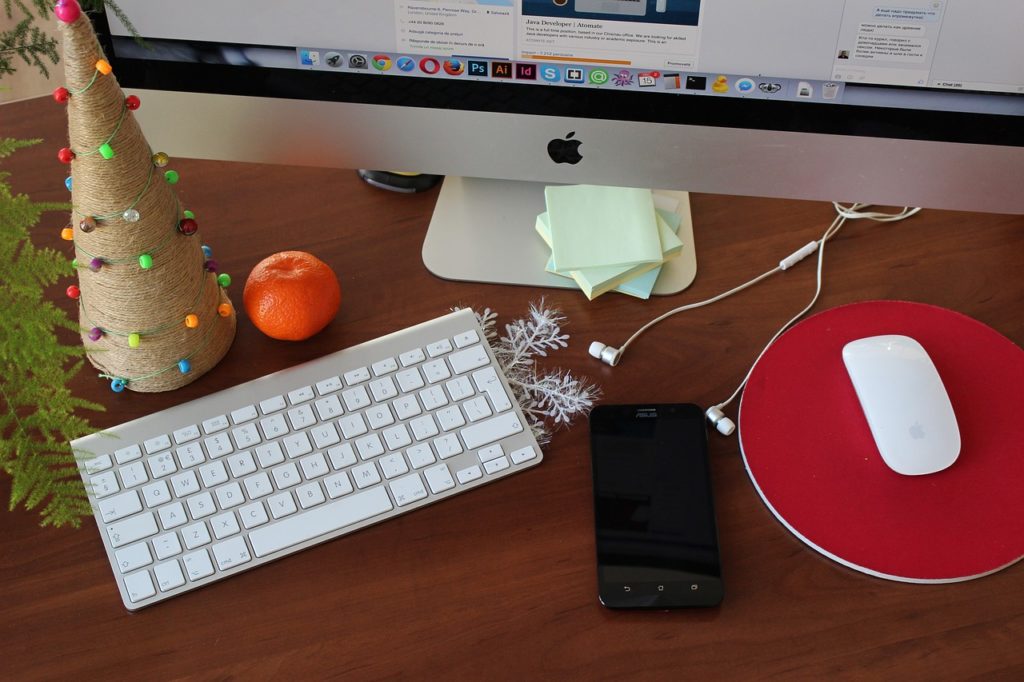 Christmas is coming and although you still have to work every day until your break, you can still get into the Christmas spirit. This means feeling cheery and in a happy and giving mood that fills your body and mind and spreads to all those around you.
In order to reach this state of mind, there are a few things you need to do and the wonderful part is that doing them is easy and fun. So happy holidays and here is a list of the best things for you to do at the office to put you a holiday cheery mood, with the most important being, to decorate your office desk for Christmas.
Get out your Christmas clothes: Yes that sweater that everyone laughs at with the reindeer and Santa driving his sleigh in a bikini. As much as everyone complained last year, it just would not be Christmas without you wearing it. It is a great conversation starter and puts everyone in a mood to be sociable.
Put on your Christmas playlist in the car: You know the songs that say Christmas. Set up a playlist that includes White Christmas, Frosty, and Grandma Got Run Over By a Reindeer and you will be in such a great mood by the time you reach the office, you will be singing the whole day through.
Decorate Your Office Desk
This is where you will spend the most time at work so it needs to be the place you devote the most time to capture the holiday spirit. Here is a list of things you can do to bring in the Christmas cheer.
Definitely Hang some Christmas Lights
There are so many ways to welcome Christmas and one of the most recognizable is with Christmas lights. Their blinking bright colors are very distinctive. You can string lights across your desk and even all around your cubicle. You can even look to put lights across chairs, tables, bookcases and other furniture at work. Another great spot is by the office door if your company will allow it.
Get a Santa Coffee Cup
Most people drink warm beverages during this time of year. If you are coffee or tea drinker, a great addition is a Santa cup. There are so many to choose form. Some are traditional while others are funny. Whichever you choose, it is sure to be a hit.
https://twitter.com/Furniture_Work/status/932580568398811136
Christmas Candles are a Nice Touch
No other time of year besides Thanksgiving and Christmas make you think of hanging candles. Perhaps it is the cold weather or just the joyous spirit that candles seem to bring out. Either way, having some candles on your desk during the Christmas holidays is a nice touch. Look for some holiday scented candles in flavors like evergreen or cider to set the right mood, and of course make sure that the candles are not near anything that can catch fire.
People Love Christmas Candy
Christmas candy is one of those things that makes everyone happy. So putting a holiday themed bowl filled with small candies is a great idea. Look for a variety of candies and include some chocolate, hard candies and taffy. For those who cannot have the sugar buy some sugar free ones that are available in any supermarket.
Hang Christmas Garland
Christmas garland says that it is that time of year and hanging some garland from your desk tells your co-workers you are in the Christmas spirit. You can get several colors and hang them from each side of your desk or cubicle. Bring enough for others because someone will thank it is a great idea and want to do the same.
Christmas is the number one holiday because it creates so many good feelings in everyone. Use your desk and work area to create and oasis of joy for your co-workers this Christmas season.