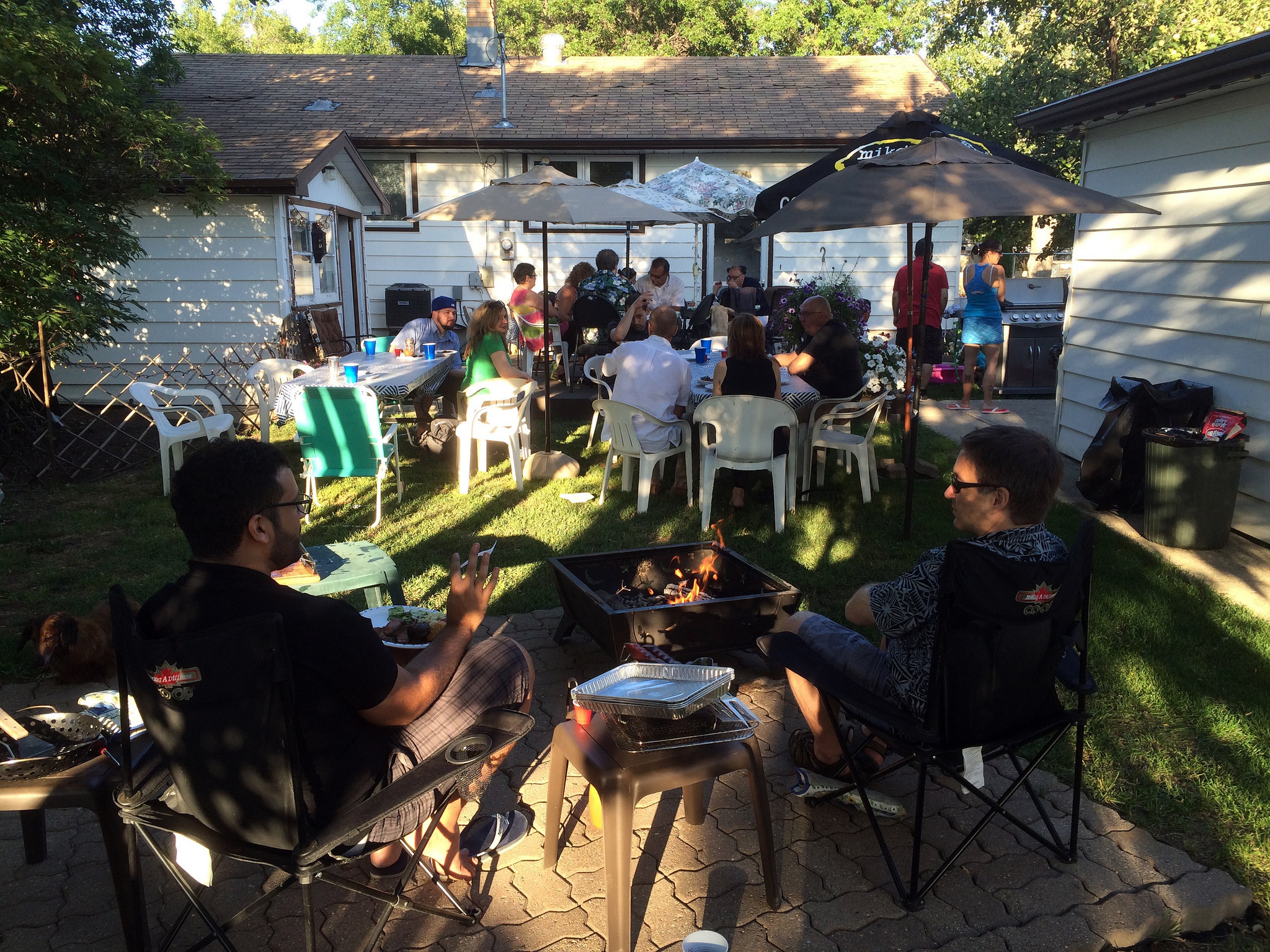 Photo by CC user daryl_mitchell on Flickr
It won't be long before the summer is in full swing and everybody is outside eating, playing, laughing, and spending time together. So, if you've got a lot of friends and family members who love alfresco get togethers, don't leave it until the last minute to get prepared. The grass needs mowing, the shrubs are due a trim, and the barbeque won't set itself up.
Fortunately, there's no need to have a sprawling garden in order to host great summertime soirees. All it requires is a neat, tidy, and comfortable outdoor space. This means dry furniture, no nettles or other annoying weeds, and a place to huddle when it gets cold. Outdoor lighting is also a wonderful investment, because it is relatively cheap and it creates a fairytale glow.
These handy hints and tips will help you prepare your garden for summer soirees that will go down as the best of the year…
Invest in Outdoor Heating
If you use your garden quite a lot, consider purchasing high quality outdoor heating products from Thermofilm. State of the art space and strip heaters mean that nature loving homeowners don't have to worry so much about the end of summer. You can keep hosting alfresco dinners and entertaining friends even as the season moves into autumn.
Have a Spring Clean
To spruce up the garden in time for summer, start by clearing it of debris and clutter. It is surprising how much organic rubbish an outdoor space can collect over winter and spring. The job shouldn't take you long, but you might need to use a portable mulcher or compactor to get rid of it all. Use a rake to dig up stubborn weeds in flower beds and give any latent seeds in the soil a second chance.
Feed a Hungry Lawn
Once the debris has been cleared, you'll get a chance to inspect the health of the lawn. This is important, because nobody wants to throw a garden party on brown or yellowing grass. Get yourself a proprietary spring or summer lawn fertiliser and use it to give the grass a major boost. Feeding the lawn in this way increases its strength and helps to stop moss and troublesome weeds from appearing.
Create a Water Butt
Installing a water butt in the garden is not just healthy for the lawn and plants, it is also a practical asset when it comes to barbecuing and other activities. While you shouldn't drink the rainwater from a butt, you can use it for all kinds of things; cleaning pets, washing outdoor dining accessories, putting out fire pits, and watering your favourite flowers.
Illuminate the Space
When your garden is looking livelier, you can start to think about creating your summer party space. You can do this, for a bargain price, with beautifully designed outdoor light fixtures. There are plenty of varieties to choose from; solar lighting, lanterns, string lights, or even votive candle holders. Use your light fixtures to guide guests around the garden and its main features.
Make It Cosy and Comfortable
If you're going to throw the summer soiree of the year, you'll need enough seating to keep everybody comfortable. Fortunately, this is pretty easy to achieve and it shouldn't cost you too much. While standard plastic garden furniture is often seen as low quality, it is the best solution when it comes to entertaining a large number; cover with scatter cushions for extra comfort.
Set Up Your Grilling Hub
Barbeque fans should really have a dedicated place for their tools and utensils. If you're a self-proclaimed master of the grill, pick up a small tea trolley or table on wheels. That way, you can pull it around the garden and use it anywhere that you like. You'll never find yourself cast adrift from your favourite steak knife or fire lighter again.
Why a Neat and Tidy Garden Makes a Happy Home
There are lots of great benefits to keeping a beautiful garden. Besides adding to the aesthetic value of a property, it can also add actual resale value as well. It increases the curb appeal of the home, which is a fancy way of saying that prospective buyers tend to stick with their first impressions. And, they start building these when they first spot the front yard or garden.